Indoor Climbing - A Psychological Powerhouse: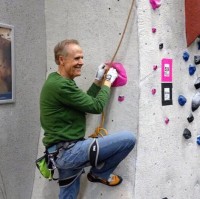 I'm having a great time at Vertical Endeavors Bloomington, MN
Climbing's Psychology:
Why is indoor climbing so exhilarating? 
What makes it psychologically powerful?
Why is it particularly appropriate for older adults?
The secret of indoor climbing's beneficial emotional and psychological impact is this: there's a big difference between scary and truly high-risk. Yes, climbing is inherently dangerous but indoor top-rope climbing while tethered into a rope and anchor system that could support a small automobile doesn't carry the risk of outdoor rock climbing. I now realize that climbing's initial scariness generates massive exhilaration and tremendous psychological benefits.

Scary vs. High-Risk: The study that tracked half a million climbing sessions in a German indoor climbing facility showed you're 1200 times less likely to be injured during 1,000 hours of indoor top-rope climbing than the same time spent on a treadmill! Bicycle injury rates are 700 times higher. Stair walking and stationary bike injury rates are 400 times higher. Top-rope indoor rock climbing feels high-risk, but injury statistics tell a different story. 

At age 63 I discovered that climbing is a great activity for older adults. When I trapped myself into an indoor climb by a careless dare to my granddaughters nearly ten years ago I was overweight, in terrible shape, had several swollen and painful finger joints, a resting heart rate near 80 and my asthma was worsening.
Ten years later, I'm 55 pounds lighter and my functional strength, endurance, balance and flexibility improvements are literally off the charts compared to where I was. My asthma is better and my painful fingers are gone - the pain, not the fingers! My resting heart rate is near 60, I'm a certified CWI Instructor and teach climbing for folks 50 and over at Climb Iowa (climbiowa.com). Climbing has greatly improved my quality of life.

We spend a lot for 'health' insurance (actually sickness insurance), but are you investing in wellness? When you decide to improve your health, the question becomes how. Indoor rock climbing is a huge confidence-builder, it's exhilarating, and it never gets old. Indoor sport climbing targets and builds your balance, endurance, flexibility and true functional strength like nothing else.

Aging issues climbing improves or alleviates:

Self-efficacy is defined as one's belief in one's ability to succeed in specific situations or accomplish a task. Diminished self-efficacy tends to limit one's willingness to try new things, to reduce or eliminate new adventures and the feelings of joy and exhilaration that accompany them. It plays a major role in how we approach goals, tasks and challenges. Just deciding to try something new builds self-efficacy a little. Taking a class about something new helps even more. Actually doing and succeeding at a new activity perceived as dangerous is particularly effective.
Failure to initiate often increases with age. Taking the initiative to try something new is a valuable life skill. Imposing unnecessary self-limitations is way too common among my generation - "I can't do that" without trying. Rediscover your "I can do it" attitude - it's out there on the edge of your comfort zone but it's there and within your reach!
Cognition: Climbing is a highly cognitive activity. How to get to the top and which route to take to get there are often not obvious. Climbing exercises the mind and the body.
Maintaining independence is a major concern for us as the aging process unfolds. The National Institutes of Health (NIH) recommends that seniors engage in activities targeting strength, endurance, balance and flexibility. Climbing is extraordinarily effective in every one of these important fitness and health components.
Relevance: Climbing isn't just for the young! It's an excellent fit for women and men over 50, 60, 70 and beyond. Arthritis sufferers, diabetics and anyone suffering from the results of a sedentary lifestyle may find indoor rock climbing to be a life-changing activity like I did.
Aging Well: Finding an exercise activity that you enjoy and that holds your interest is essential. Your health and quality of life depend upon getting and staying mentally and physically fit. The more social, interesting and enjoyable the activity, the less likely you are to quit. Climbing routes constantly change, providing new challenges and fun. Climbing is quite simply the opposite of a repetitive exercise.
To summarize, indoor top-rope climbing is an exhilarating total-body exercise with significant emotional and psychological benefits. It makes you healthier, happier and certainly brings a sense of adventure. It promotes weight loss, improves balance and flexibility, builds functional strength, endurance, social connections and offers a multitude of intergenerational experiences.  

Climbing is not only appropriate for older adults, it's a highly effective path to lifetime fitness and health. Desiree Reichenbacher of Ageless Fitness in Des Moines wisely says "Age Less, Move More". I'll add to that wonderful advice: Age Less, Move More - Climb!

After reviewing sports injury rates I realized that indoor top-type climbing was less dangerous than I feared. Even so, conquering my fears and deciding to try it was hard. However, actually trying it was easy; I took a class. I was in terrible condition when I started but had fun and got better every time I went. This was encouraging!

As I began to try more difficult routes I noticed that five pounds less weight made a big difference. I don't know about you, but I need big incentives to lose weight! That incentive to climb better on more difficult routes changed my life; I started climbing at 230 pounds and now weigh 175. The less I weighed, the more fun climbing became.

One more thing; when friends and relatives discover you're a rock climber you'll enjoy their reaction.