Take A Class: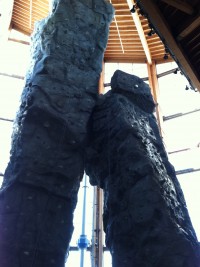 My first climbing experience at REI
How To Get Started:
Visit your nearest indoor climbing gym, look around and ask questions. Of course you could dive right in and try it yourself, but a better approach is to take a class.
The Boomer Climbers' Movement Class at Climb Iowa is a fun learning experience. We teach and use state-of-the-art equipment and risk management practices to put your mind at ease and let you "get high" securely, physically and emotionally!

Check with your doctor, and if you can climb a ladder you can probably try indoor rock climbing. Beginner climbing routes are on a sloping wall (not vertical), so it's mostly your legs doing the work. Plus, if you get tired you can just sit in your harness for a bit, then resume climbing. After you get to the top, your belayer will smoothly lower you back to the ground.

Wear comfortable, slightly stretchy clothes. The harness and climbing shoes are provided. You'll be helped into your climbing harness, fitted with climbing shoes and taken through an orientation. Three types of climbing (top-rope, bouldering and lead climbing) are explained, and you'll review the gym's rules.
In top-rope climbing, the climber's harness is attached to a rope running up through an anchor at the top of the route, and then down to the belayer's belay device secured into his/her harness. As the climber moves up, the slack in the rope is taken up by the belayer. 

When the climber reaches the top of the route or gets tired, the belayer lowers the climber sitting in their harness smoothly and slowly to the ground with an assisted-braking belay device. Some routes have automatic belay systems (auto-belays) which eliminate the need for a climbing partner. 

Climb Iowa's Boomer Climbers' Movement Class is a four-week class for adults age 50 and over, and meets on Friday afternoons between 1-3PM. No rock climbing experience is necessary and the class includes a one-month membership with all climbing gear provided at no additional cost. Attendees have ranged from 50 to nearly 80 years old.

Boomer Climbers' Movement Classes:

A new class starts on the first Friday of each month
No climbing experience necessary
You don't have to be strong to attend
Indoor top-rope climbing has a very low injury rate (see Fear vs. Reality)
It's an exhilarating journey of self-discovery and empowerment
It's easy on the joints - no jarring or sudden movements required    
It builds your functional strength, endurance, balance and flexibility while you're having fun
It's a uniquely interesting adventure sport that (amazingly!) is a good fit for Boomers/Seniors. You learn all about active and passive braking belay devices, carabiners, knots, kilonewtons (kN), beta, climbing techniques and more
Individuals, couples and groups new to indoor climbing can enjoy an adventure, meet new friends and learn all about the gadgets, gear, knots and climbing techniques used in top-rope rock climbing.