Climb Iowa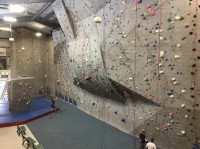 Inside Climb Iowa!
Iowa's Best Indoor Climbing Gym:
Climb Iowa (www.climbiowa.com) hosts over 50,000 visitors annually. It's a well-run, modern indoor climbing facility just north of the Interstate-35/80 and Highway 141 interchange in Urbandale. Any person entering the facility, regardless of intent to climb, must have an up-to-date visitor agreement on file at Climb Iowa.
After finding Climb Iowa I took a couple of classes and found a very welcoming atmosphere. Matthew is the Head Climbing Coach and (fortunately) was my first instructor. He was very patient even though I was a rank beginner. I could only climb for very short periods when I first started but I met new friends, had a lot of fun and kept at it. 

The first thing I learned from Matthew is the importance of precise footwork. It saves energy and is a required skill as you begin to tackle more technical climbing routes. Here is Matthew's great demonstration of precision footwork. He makes it look easy; trust me - it isn't!

Climbing at Climb Iowa never gets old, primarily because of their excellent route-setters. Their expertise and hard work provide a constantly changing variety of new climbing routes for all levels of experience and ability.

That's an impressive achievement, because setting a route that's exciting yet doable for the beginner is a completely different task than creating a route that challenges a strong, experienced climber.

Ten years later, I'm still one of their members and weigh 55 pounds less than when I started (230 lbs then, 175 lbs now). I currently have a CWA (Climbing Wall Association) Instructor Certificate, and enjoy volunteering as a judge for climbing competitions.