Boomer Climber Testimonials:
Judith Climbing Strong!
Judith E.:
I began climbing in 2011, when I was 66 years old. My son worked at Climb Iowa, and we planned a trip to climb at Red Rocks near Vegas. He needed a belayer, so he trained me to do that at the gym, along with some beginning climbing techniques. 
I loved the feeling of embarking on a climb, looking up rather than down, and all the thought that goes into completing a route. We went on a trip and I got to try some outdoor climbing; quite a different experience and very challenging for me. Watching others try out the routes and discuss possible approaches was fascinating. 

When I got home, I signed up for Aaron's movement class to learn more and gain confidence. It was the best thing I could have done, and I learned so much. Now I climb once a week, and always find a new problem to overcome or to try again next time. Climbing is the best weight-bearing exercise for me - it never gets repetitive or boring. Therefore I look forward to doing it. 

I believe it has helped in stopping the progression of my osteoporosis, and I know it has helped me build strength. Climbing was quite a foreign thing for me to do, but Climb Iowa is a friendly and encouraging environment, and that helps me feel comfortable trying new things there. 

I am now 73, and very happy to have found this wonderful activity. It's never too late to begin something new!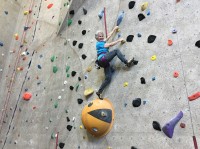 Kitty Enjoying the Climb!
Catherine P.:
I started climbing at the age of 67, during a mild winter when snow failed to fall. I was living outside Woodward, IA, and my main winter sport was snowshoeing for miles through the woods and fields surrounding my house. At my wits end for something physical to do, I searched online for climbing gyms and found Climb Iowa only a half-hour away. As soon as I saw the walls, I was hooked.
I bought my own harness, climbing shoes, and a membership, and started scaling the walls with great enjoyment about three times a week. I soon met Tom, who was hosting a group of mature adults every Sunday, and climbed for months as a member of the group. We all helped and encouraged each other, and my climbing improved.

After about four months of climbing, I experienced a complete tear of my rotator cuff in an unrelated incident. It took almost a year to heal, and a lot of physical therapy to strengthen. When I resumed climbing, I found that my shoulder felt better after I had climbed. By working religiously to strengthen my shoulder muscles, I am now able to climb much more advanced routes with no pain.

I now climb four to five days a week with a series of belay partners. I especially love going to other climbing gyms around the country and seeing what they have to offer. I also love to coach newer climbers, and strongly recommend that they take some of the courses the gym offers.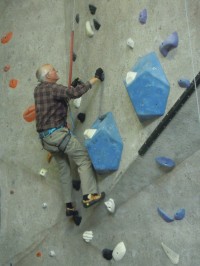 Jim (age 73) High on the Wall!
Jim W.:
For many years I had been giving into the inevitable march of osteoarthritis in my knees and hips. I was beginning to wonder when I would have to have my first replacement. Throughout, I knew my legs were getting weaker and weaker even though I still walked every day. The muscles just weren't being exercised enough, so I began doing knee strengthening exercises.
As this took place, I was surrounded by climbers. First, Judith's (my life partner) son, Thomas, and then Judith, and then my son Peter and his family took it up and loved the challenge and the exercise. So, when Climb Iowa started its Boomer Class, I thought let's go for it.

In March, I started the once a week climbing classes led by Tom Weaver at Climb Iowa. I am hooked. Tom, a boomer himself, is an excellent teacher, letting your body be the guide to what you can do and always encouraging you to keep going by guiding you through the climb. 

I know my knees (and probably my hips as well) are getting stronger because of how I use them while climbing (and how much easier it is to get out of a chair). And the challenge of climbing the route is so much better than finishing the repetition of an exercise routine. "I made it!"

Plus, I would be remiss if I didn't include the yoga classes and all of the other climbers at Climb Iowa. Even though I climb the easier routes, everyone is friendly and supportive. They truly like having this boomer in their midst.