"Workout of the Week" on WHO-TV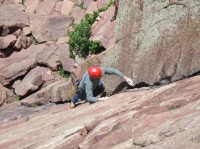 High in Eldorado Canyon
In the summer of 2012 I emailed a local television station to suggest they consider doing a rock climbing feature for their "Workout of the Week". I told them how I discovered rock climbing and how much I enjoyed the sport.
I was surprised when WHO-TV anchor Erin Kiernan replied and said they would like do a 'Workout of the Week' with me as they were approaching a TV ratings period. She said she and Sonya Heitshusen would look forward to climbing with me and what day would I like to choose for filming the segment!
I remember getting nervous just reading Erin's email. However, it turned out to be great fun. Erin and Sonya are both consummate professionals; very nice and very brave! They climbed well and made me look more at ease than I felt or deserved.